A book about grief and brothers looking out for each other
Being honest, I don't usually choose books about grief. However, the 'brothers looking out for each other' reminded me of Supernatural (and who doesn't love Sam and Dean?). Not only that, The Nearest Far Away Place by Hayley Long has won multiple awards (not always a good thing).  But, as I'm telling you the truth here, the really shallow reason for me picking up this book was that it is set in Aberystwyth, a Welsh sea-side town just an hour's drive away from me. It's unusual to find a story set in places I know, so I grabbed a copy from my local library.
The Blurb
A powerfully told story of the love between two brothers in the aftermath of a family tragedy

Griff and Dylan are driving into Manhattan with their parents when the worst happens. There is a terrible car accident and Dylan and Griff¹s parents are killed.

The boys are suddenly orphans with nowhere to go, until a kind aunt and uncle give them a new home in Wales. Now Dylan and Griff have everything they need ­ love, a happy home and a future. But Dylan is worried about Griff: whether he is OK, whether he is coping with his grief. He doesn't seem to want to speak about it or really acknowledge the loss of their parents.

But Dylan needs to be even braver than Griff, because there is something very important he needs to face up to before he can move on.
The blurb sounds interesting and has a pretty cover. On with the review.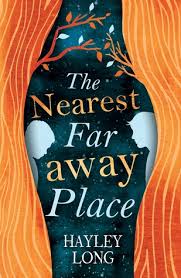 The Pace
The Nearest Far Away Place is not a fast-paced book and I did find myself skim-reading in places. Told from the POV of fifteen year old Dylan, the story has plenty of flashback to memories of happier pre-accident times to slow it down. However, I loved Dylan's internal monologue and the banter between him and his family. I could easily believe it was being told by a teen and it was this authentic voice that kept me reading.
The Twist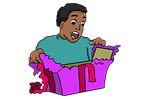 Yes, I did see the big plot twist coming before it was revealed… but only just before… and it was cleverly hidden for most of the book. Once I realised, I wanted to go back and read the book again to catch all the clues I missed.
No, I won't tell you what it is.
The Typography
I wouldn't normally mention the typography in a YA book. In fact, quirky typesetting is unusual in books aimed above middle graders but The Nearest Far Away Place changes all that.  Here's an example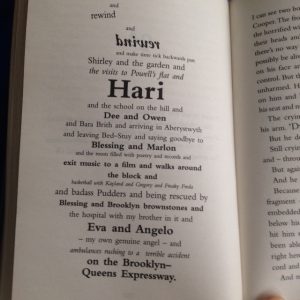 Flashbacks were signalled to readers by a section of words underneath each other. I'm not sure this was necessary but I got used to it.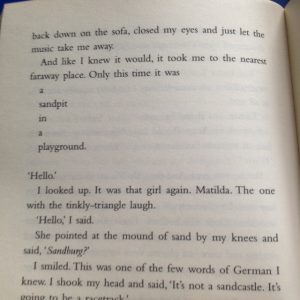 But the thing about this that irritated the hell out of me about the typography was the use of large and small letters mixed in with the main text. I mean, readers of this book are old enough to not need bold type to emphasize words and tiny letters for whispers, aren't they?  And squinting at the ever-changing text made me feel dyslexic.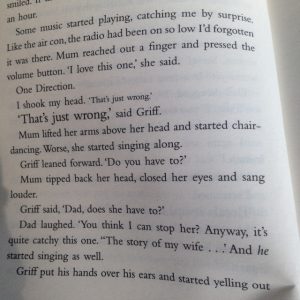 Aberystwyth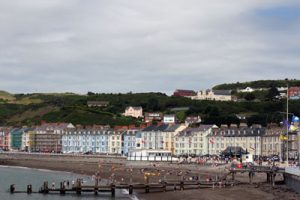 The Nearest Faraway Place is half set in the US and half set in the UK so my local seaside town didn't come into the book until half-way through which I was a bit disappointed about, that being the reason I chose it. However, once the protagonist arrived in Wales I thought the author captured Aberystwyth perfectly. (And there really is a store called Cheapie Charlies!)
I did wonder whether the American half of the book was as well portrayed. Anyone out there who might know???
The Verdict
To conclude, The Nearest Faraway Place was a well-written book with a fantastically authentic voice, although the pace was a little slow for me. Despite being a book about children orphaned in a car accident, I didn't cry… which surprised me. I must be getting tough! It was just a shame that the publishers did the weird thing with the different sized text. If you can find an edition without this feature, I would definitely recommend it.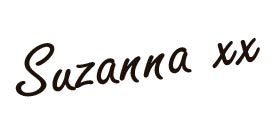 ---
---