Coming soon …
"Jake" is the second short story prequel in the Ninety-five percent Human series.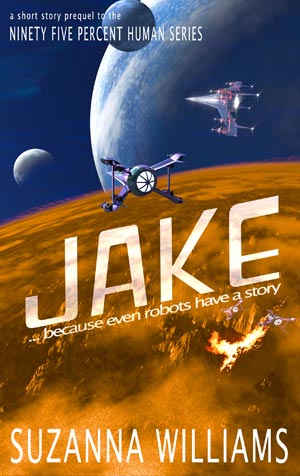 Jake
---
The unexpected hit character from Ninety-five percent Human was Jake, the evolving robotic alien life-form fighter-pilot-turned-space-pirate with a bad sense of humour.
I felt he deserved to tell his own tale.
Jake is one of my favourite characters ever and I sincerely hope he makes a return in the sequelAmazon Customer
Jake pulls together the pages and pages of back story I compiled whilst writing the first book … along with some more bad jokes!
So, if you want to know how an alien robot came to have a love of one-liners, or why he is so desperate to have a 'friend', this is the story for you.
Honestly, I feel that my favourite character in this book wasn't Joe… I loved Jake, the terrible pun-spewing geologist. I don't want to do spoilers, but he really is a fantastic person, and his jokes (although terrible) always made me laugh. I love puns! If there's another book, I demand more Jake!Helena Ferrell
"Jake"   … coming to a planet near you … soon
Also available in the Ninety-five percent Human series is "Sarah".