Split Second – Book Review

To kick off my British Books Challenge 2017, I picked up a copy of Split Second by London-born Sophie McKenzie. I read and enjoyed some of her earlier books and saw her speak at the Hay Festival a couple of years back so I was interested to read more of her work. The description of Split Second says it is a "heart-stopping YA thriller." Did it live up to the hype? Let's see.
The cover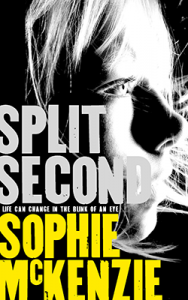 Honestly, I don't like this cover. Maybe it says 'thriller' but, to me, it's not very thrilling.
The Blurb
Bound together by the devastating consequences of a terrorist attack on a London market, teenagers Charlotte (Charlie) and Nat appear at first to have much in common. But, as Charlie gets closer to Nat and his family, she begins to wonder if perhaps he knows more about the attack than he has let on. Split Second is an action-packed thriller that shifts between the perspectives of its two main characters as their courage and their loyalties are tested to the limit.
This sounds more interesting than the book cover.
The Plot
From the review so far you might be under the impression that I didn't like Split Second. But you're wrong. There is waaaaay more going on with this book than either the cover or the blurb lets on. Welcome to London-of-the-near-future where times are hard, politicians are corrupt and social unrest bubbles over at the least thing. In the wake of Brexit and the US elections. It all sounds far too likely to happen.
The book starts with Nat, desperately looking for his brother, Lucas, in Canal Street Market. Nat knows there's a bomb set to explode. Was his brother really one of the bombers?
And then there's Charlie, having that last fateful argument with her mother that she will regret for the rest of her life.
With Nat's brother in a coma and Charlie's mum dead, they're both out for answers… and revenge. So starts a fast-paced plot with so many twists that the reader struggles to figure out who are the bad guys and who are the good.
This book has completely made up politicians and policies but it highlights how easily people get drawn into political party's and how dangerous this can be.
Lucas had taken his 'package' to the market after all. Like me, he hadn't known what he was really doing. Like me, he had been left for dead. How ironic, I thought bitterly. I truly had followed in my brother's footsteps, in the worst possible way.
The Characters
Told from alternating perspectives, Charlie and Nat are really well-written protagonists. They are smart and strong and I felt their pain and anger and really understood their motivations as they try to make sense of their changed lives. McKenzie does a great job of fleshing out the peripheral characters too.
The Romance
It's the old, 'he-likes-her and she-likes-him but will they get together, or won't they' story? I felt like yelling, "Just tell them how you feel," at Nat and Charlie sometimes. I often feel like doing that in real life too, so it must have been realistic.
My verdict
Split Second is a heart-stopping YA thriller and I really enjoyed it. I didn't guess all the twists and turns (although I figured they'd end up as a couple eventually). The book leaves the reader on a cliffhanger, and I wished I'd picked up the sequel, Every Second Counts, so I could start it straight away. It was a great book to start January in the British Books Challenge 2017.

---
---