National Novel Writing Month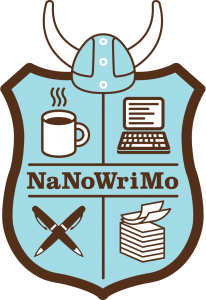 It's that time of year again. Na-No-Wri-Mo aka as National Novel Writing Month where thousands of people dedicate the whole of November to writing a book. In 2015, Na-No had 351,489 participants and out of those 40,423 managed to complete the 50,000 words it takes to become a "winner."
In fact, by the time I publish this blog post on November 1st, some people will already be on their way to finishing their 50,000 words. Yes, finishing! In one day. It's a crazy time of authors putting their lives on hold to schedule writing sprints and cheer each other on. It should be a great motivation …
… but I won't be joining them.
Na-No best-sellers
Not that it doesn't work.
Erin Morgenstern's best-seller, The Night Circus, started life one November in 2004. Sara Gruen wrote Water for Elephants, in Na-No. Hugh Howey wrote Wool. Even Marissa Meyer drafted my favourite novels from the Lunar Chronicles in the mad, monthly writing frenzy.

It just doesn't work for me.
My Na-No track record
I've tried to do Na-No three times.
No. 1
The first time was in 2005, before I wrote ShockWaves, before I worked with an editor or an agent. I had the vaguest idea for a character and a setting and I merrily wrote my way through 20,000 words. Then I hit a problem with the plot and the writing stalled. It didn't bother me too much. This was the way my writing went at that time. I had more half-finished manuscripts than you could shake your fountain pen at.
No. 2
The second time, ShockWaves was doing the rounds of agents and I wanted a distraction. Determined to be more prepared, I'd written a synopsis of the story. I guess I thought it was going to be easy. I'd already written one book and I'm a fairly quick typist. How hard could it be?
I didn't take into account my inner editor. ShockWaves had taken many, many rewrites and, after every writing session, I would view my verbal diarrhoea and see only the amount of work it was going to take to put it into some sort of order. I started to tweak the words as I went along and my word-count slowed and slowed. I kept writing but I never got the coveted winners badge.
No. 3
Which brings me to 2015. The years between my last book had been full of unavoidable life distractions and I was finding it hard to get back into the rhythm of writing. I thought Na-No would help with this.
Here's what happened.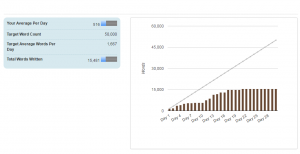 Day 1 was on target.
I missed Day 2 but almost caught up on Day 3.
After that it, I fell so far behind that, despite adding some words in the second week, I gave up completely on Day 22. And when I say I gave up, I didn't just stop adding my writing to the Na-No dashboard, I decided I was a terrible writer and didn't write anything until January 2016.
Talk about a de-motivator.
Why it doesn't work for me.
My writing schedule has to be sustainable. Yes, I could skip work, sit my grandchildren in front of the TV, forget the housework and turn off my internet connection. But how long before I run out of money, the grandchildren get fretful, I can't find any clean clothes and get sick on junk food?
My life is a juggling act. If I focus on just one thing, the rest of my life crashes. It doesn't make for thousands of words every day but it keeps everything going.
I'm not complaining. I love my life. But I can't stand the Na-No pressure.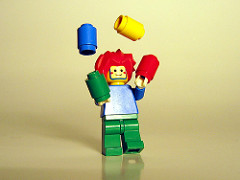 Good luck to everyone attempting to write a novel this month. I have the greatest respect for you … but I won't be joining you.
Doing Na-No? Let me know in the comments.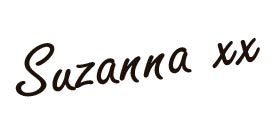 ---