Book review: Carry On by Rainbow Rowell
Why have I never read any books by Rainbow Rowell before?
Eleanor and Park has been on my TBR list for ages. I just never got round to it. And I even have Fangirl on my Kindle, but wasn't motivated to read it. So, when I picked up Carry On in the library on a whim, I didn't know what to expect. I started to read it in the library car park, and I absolutely loved it.
The Blurb
This is what sold me the story as I stood by the book shelves.
Simon Snow just wants to relax and savour his last year at the Watford School of Magicks, but no one will let him. His girlfriend broke up with him, his best friend is a pest and his mentor keeps trying to hide him away in the mountains where maybe he'll be safe. Simon can't even enjoy the fact that his room-mate and longtime nemesis is missing, because he can't stop worrying about the evil git. Plus there are ghosts. And vampires. And actual evil things trying to shut Simon down. When you're the most powerful magician the world has ever known, you never get to relax and savour anything.

Based on the characters Simon and Baz who featured in Rainbow Rowell's bestselling Fangirl, Carry On is a ghost story, a love story, a mystery and a melodrama. It has just as much kissing and talking as you'd expect from a Rainbow Rowell story – but far, far more monsters.
The cover
Why is the US cover so much better than the UK cover?
This is the cover on the book I have.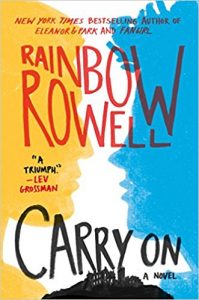 Not inspiring at all.
And this is the US cover.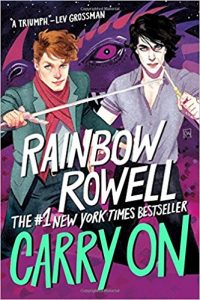 This fits the tone of the book so much better than the 'talking heads' on the UK cover. What are the publishers thinking?
Romance
As I write, Carry On is at no. 1 on Amazon's Teen and Young Adult LGTB fiction category.

Did I know this when I started reading? No
Was I surprised when Baz reveals he's loved Simon since they met? Yes.
I wish I'd never figured it out. That I love him.

It's only ever been a torment.

Sharing a room with the person you want most is like sharing a room with an open fire.
Was I even more surprised when Simon kisses Baz? Definitely.
I just want to kiss him, then go.

"Simon…," I say.

And then he kisses me.
Up till then Simon's relationship had been with girl from the school called Agatha. Admittedly, Agatha was his ex-girlfriend throughout the book but he had been serious about her. Anyway, the relationship between Baz and Simon is great. I liked that Simon loves Baz despite his vampire fangs and that Baz loves Simon even though he ends up with… sorry, no spoilers.
But seriously, it's a love-hate relationship that just feels natural and authentic.
The Writing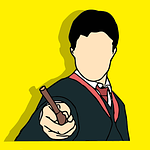 There is no denying the premise of Carry On is very Harry Potteresque – "orphan attends school for wizards and turns out to be the one who will defeat evil." Yeah, that story's been done already.
But Simon Snow is Harry Potter with edges. He's the boy who's roughed it in an orphanage rather than being closeted under the stairs at the Dursley's.  He's flawed and he's real, even though he lives in a world of magic.
And Rowell's world building is second to none.
I loved the spells. 'These aren't the Droids you're looking for' hides things from view. 'Time flies' to speed up a long car journey (which didn't work because they weren't having fun lol). And a spell I wish I could cast 'A place for everything, and everything in it's place' to tidy the house.
I loved the magical beings; the Numpties and the Humdrum.
And Rowell's description of magic is wonderful.
The way Snow starts to blur and shimmer. Like a jet engine. The way sparks pop and flare in his aura. The light reflects in his hair, and his pupils contract until his eyes are thick blue. He's usually holding a sword, sot hat's where the flame starts – whipping around his hands and wrists, licking up the blade. It makes him mental. His brain blinks out, I think, about the time he starts singing. Eventually the power pours off him in waves. Flattening, blackening waves. It's more power than the rest of us ever have access to. More power than we can imagine. Spilling out of him like he's a cup left under a waterfall.
Even the minor characters are well-fleshed out with believable backstories and the ending was unexpected and satisfying.
Minor quibbles.
Carry On is written in 1st person POV. It also does a lot of head-hopping and I have to admit that occasionally I found myself looking back to the section heading to remind myself who telling the story at that point. This was especially true at the beginning when you're not even sure who some of the characters are!
There are also some swear words, which I thought made the dialogue more authentic, but might offend some.
I think I might have used the word 'love' quite a lot in regard to this book but I can't recommend Carry On enough. I will definitely be reading more Rainbow Rowell.
Have you read the book? Let me know in the comments.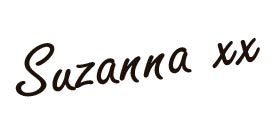 ---
---