The film version of David Levithan's Every Day will be hitting the cinemas on the 23rd of February. The trailer looked interesting so, I decided to read the book first.
The Blurb
Each morning, 'A' wakes up in a different body. There's never any warning about who it will be, but A is used to that. Never get too attached. Avoid being noticed. Do not interfere.

And that's fine – until A wakes up in the body of Justin and meets Justin's girlfriend, Rhiannon. From that moment, the rules by which A has been living no longer apply. Because finally A has found someone he wants to be with – every day . . .
I loved the unusual premise of this story and didn't know why I'd never read the book before… until I saw the cover.
The Cover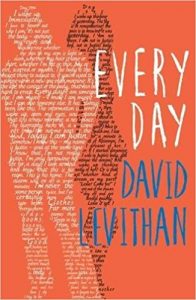 Sadly, I don't like anything about this cover. Whilst the outline of the people made from writing is clever, it's not visually appealing to me or interesting in anyway and the yukky orange is even more florescent than it looks in this picture, which means it's worse in real life than it looks here! I know you shouldn't judge a book by its cover, but it's no wonder I hadn't picked it up.
The characters
I wondered whether the fact that A switches bodies would be confusing, but he has a great distinct voice so, even though he was in different lives, it wasn't a problem. Learning about the people he inhabits was interesting and, because Every Day is written in first person point of view, I totally understood his motives.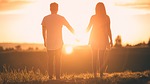 Rhiannon, the girl he falls in love with, is also a great well written character. She starts out with a douche-bag boyfriend and ends up with … nope, no spoilers.
The only other consistent character is Nathan. After being 'taken over' by A for the day, Nathan decides he has been possessed by the devil and sets out to prove it. This leads to A finding out more about his body-hopping condition. I had a lot of sympathy for poor Nathan.
The ending
I really enjoyed the book and finished it in two days (it would have only been one but real life kept intruding) but the ending wasn't totally satisfying for me. No spoilers, but I wanted there to be more. And then, joy, I found it had a sequel, Another Day. But wait, this wasn't a true sequel! It's the same story told by Rhiannon. I have ordered the book, but honestly I'm not holding out much hope. (And it has an equally bad cover!)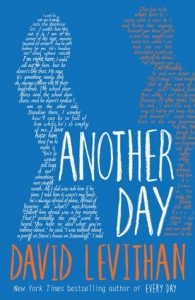 The film trailer
Want to see how this translates the big screen? Check out the trailer.
My verdict
This is an unusual and original book that's definitely worth reading. The plot was well thought out, although you do have to buy into the idea that someone could wake up every day in a different body.
So, what do you think? Have you read Every Day? Will you be watching the film? Do you like the cover? Let's talk in the comments below.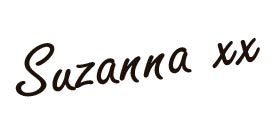 ---
---