"Rise" is the first in the Trifecta series by Luis Almonte. I don't usually read books featuring witches and vampires but I'd heard good things about "Rise", the cover is gorgeous and, after reading the Prologue, I decided to give it a go.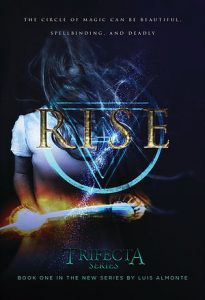 The Prologue
The Prologue is a scary start; a spell that eats its victim 'from the inside out', too many vampires to handle, and a sister abducted. Alexia, our heroine, is having a bad time. We then move back in time to find out just how Alexia's life went so horribly wrong.
The First Chapters
After the explosive start, Almonte sets up the world of the witches with their various covens. Alexia is trying to be a 'normal' high school student, whilst training for the Trials which will prove her as a witch. The rules of the covens are complicated and the amount of world building slows the pace of the first chapters. Alongside Alexia trying to cast spells, it's also quite 'American high-schooly'. She worries about mundane stuff like what she's going to wear, which I honestly didn't like – although I appreciate I am somewhat older than the target YA audience.
I decided to go cute-casual with my knee-high brown leather boots, black fleece-lined leggings, a blue plaid flannel tunic with a wide brown leather belt, and my peacoat for warmth
The love interest
Then we meet Kaleb. The love-at-first-sight relationship was a little too 'Twilight' for my taste.
My thoughts turn toward Kaleb. I wonder if he's sitting somewhere in the crowd thinking about me too. The pull I feel toward him is almost magnetic. Even when I'm just thinking about him, I can feel the heat of his fingers grazing mine, just like on the first day of school when he handed me the papers that had scattered all over the floor. The weight of his eyes meeting mine makes my stomach fill with butterflies. I can't quite explain it, really; something just sparks within my heart, sending electricity rushing through me.
The Second Half
However, once we learn the truth about Kaleb and he gets together with Alexia, the whole book kicks up a gear. Suddenly there's forbidden love, the inevitable Annual Trials and Alexia casts the spell which leads to the troubles we witnessed in the prologue.
To sum up
"Rise" is the first book in the series. It is well-written and well-plotted. Although I struggled with the first half of the story, I flew through the last chapters.
Recommended for lovers of witches and vampires.
Have you read this book? Let me know your thoughts in the comments below.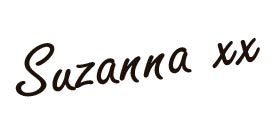 ---